Our Training Methods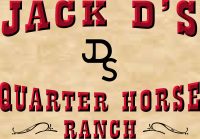 You should know that we take training your horse very personal. When you bring your horse to us for training, we first evaluate your horse in order to give it the special needs that each individual horse has.
Our training is focused on teaching your horse to pay attention to the rider at any given moment. With that in mind, a horse will be more responsive and willing to do anything for the rider without hesitation. This type of training works very well in timed events, such as roping and barrels, when your horse needs to react quickly and without hesitation.
By teaching the horse to realize that the only place to be is next to the trainer/rider, the horse is motivated to want to be close to the rider and focus on the riders cues. It is very satisfying to watch a horse follow you around with just a kiss and no halter.
All horses are different and there is no one horse that learns the same as another. We consider a good days lesson when the horse has learned what is necessary for that day. Sometimes that takes an hour and sometimes three or four. Because of this we do not charge by the hour. Our fees stay the same for a horse that takes one hour a day to learn as one that takes four hours a day.
Our promise to you, is that your horse will be cared for in the best possible way. Our guarantee, is that your horse will not be harmed during its training and will be given the greatest opportunity possible to learn.
We love horses and would love to help you with yours. We look forward to working with you and your horse.
To set up an appointment for training your horse, please email us at:

jackds_ranch@yahoo.com